How Are You Different From Other Gyms?
---
We are a class-based gym, and we also really are a club. Members are welcome to come anytime and use the equipment and the space as they wish, but most of the membership come for classes and enjoy the energy and comraderie of working out in a group. We have classes for fitness and classes for sport, and are able to serve a wide range of fitness levels and schedules by offering up to 10 class times per day with over 200 competition grade kettlebells ranging from extra-light to extra-heavy to choose from. There aren't a lot of gyms dedicated ONLY to kettlebell training. But the decision we made to do just that means at last count we had over 12,000 kettlebell classes under our belt. We're pros, and we get our members safely performing the most technical kettlebell exercises (which some trainers take weeks to teach) in only two hours. All of this is how we ended up with so many normal gym-goers-turned-into-athletes that we've become one of the top ranked clubs in the entire world! (Ranking is based off kettlebell sport competition results.)
---
How Do You Keep Members Motivated?
---
Well, we think the kettlebells do most of that on their own. Most all of the exercises performed in class have "easy" and "hard" versions; pair that with all the different weights of kettlebells to choose from, and there is always a "next level" to work toward, but at the same time you'll never feel awkward about where you currently are, because since all the exercises are timed, no one is every waiting for you to finish your "x number of reps." Also... We play fun, high-tempo music during class. We give out raffle tickets and have a monthly prize drawing for spa visits & other treats. We incorporate relays into our classes, where we'll count reps for each other. We design the classes to fly by as quickly as possible. We invite members to join our kettlebell sport team. Training as a team with a competition date in mind provides clear goals with lots of peer support.
---
Will I Be Able To Do It?
---
We have members in their early teens and members in their 70's. One noteable thing we have in common is enjoying the technical challenge. Freestyle kettlebell training is similar to a martial art - you'll continually improve how fluidly you moved the bells and learn more advanced techniques as you put the time in. Our training programs have helped many members overcome injuries or chronic pain, so physical limitations exist but are more rare than you'd imagine. Check out these stories and come to an intro workshop to try it out for yourself! Transformation Tuesday: Hafoc Yates Transformation Tuesday: Buffy the Kettlebell Slayer Meet Our Members: Richard Toellner
---
How Much Do Those Things Weigh?
---
Competition grade kettlebells (those are the colored ones) are uniform in size regardless of weight so your technique remains consistent throughout your training. Good quality ones like we carry at SKC are aluminum or steel and have a hollow core. Most competition bells are color coded. pink=8kg (18 lbs), blue=12kg (26 lbs), yellow=16kg (35 pounds), purple=20kg (44 lbs), green=24kg (53 lbs), orange=28kg (62 lbs), red=32kg (70 lbs), white=40kg (88 lbs). If it has a black stripe around the handle, it means it's an intermediate weight; 2 kg more. I.e. pink (8kg) with a black stripe is 10kg. The black ones (which are more common) are hardstyle kettlebells made of cast iron and increase in size as they increase in weight. Regardless of the style, you can find kettlebells as little as 5 lbs and up to 200 lbs, but in our daily classes and personal training the weights we use most are 9, 13, 18, 26, 35, 44, 53, 62 & 70 lbs.
---
Do You Have Child Care?
---
We can't wait to add child care but we don't have it yet. Kids 4+ are welcome to hang out and play on their ipads or whatnot while their parents are in class. Fair warning: we try, but it's hard to monitor the language in all the music we play, so you may want to bring headphones for the little ears.
---
Do You Have Kids Classes?
---
Yes! We have separate sport training programs for middle-school aged kids, or kids 11 and up can join in KettleFIT classes so long as they've taken the Core-6 intro workshop first, just like everyone else.
---
Can I Put My Membership On Hold?
---
If you need to place a hold on a prepaid membership or to guarantee your rate remains the same after an extended absence, you can freeze your membership for $20 per month or per instance. Email your hold request to info@seattlekettlebellclub.com at least 7 days prior to your next billing date.
---
How Do I Cancel My Membership?
---
No impossible contracts here. Only 7-day notice is required to cancel your autopay for class memberships (The Cub, Panda, American or Grizzly), 30-day notice for The Pay-As-You-Go and Open Gym. Email your membership cancellation notice to info@seattlekettlebellclub.com. If your notice is given outside of the cancellation window, your payment will process as usual and your membership will be cancelled for the following month.
---
Do You Have Showers?
---
Yes, although we don't have a locker room, we have a shower room and a single changing room.
---
Where Do I Park?
---
We have what must be some of the only free street parking left in Seattle. Also, there is a parking lot adjacent to the gym which you may park in for early-morning classes and late-evening classes and on weekends. Please DO NOT park in the parking lot 8am-5pm Monday thru Friday.
---
What Is Kettlebell Sport?
---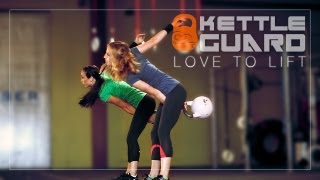 Kettlebell sport is also known as girevoy sport, or GS for short. Girevoy is Russian for kettlebell lifter. The object of kettlebell sport is to lift one or two bells as many times as possible within a certain amount of time (usually 5 or 10-minutes). ​ Many people practice kettlebell sport strictly for the exercise, as it is unmatched in efficiency (you're getting strength, cardio and endurance training benefits at once), it's widely accessible (low-impact) and easy to scale as you progress by increasing the speed of the reps and/or the weight of the bells. Others love the deadlines and challenge a competition provide, and choose to compete in kettlebell sport lifting competitions to achieve the most clean reps within the time limit; good technique is critical. ​ The sport of kettlebell lifting was created in Russia - where the first known competition took place in 1948 with unified rules and regulations forming over the subsequent decades and culminating with membership in their National Sports Federation. ​ Today, aside from the athletes around the world who practice kettlebell sport to increase power endurance performance in their own primary sport, many individuals and clubs also participate in kettlebell sport competitions. Competitions are typically 1 or 2 days held over a weekend and lifters travel to these events. A small competition may have 25 competitors and a large one may accommodate 150 or more. There are several different kettlebell sport events, or "lifts," and the most common are (similar to olympic weightlifting) variations of the kettlebell jerk, snatch and clean and jerk (we call that long-cycle in kettlebell sport). In olympic weightlifting the lifter is trying to lift as much weight as they can at once. A kettlebell lifter is using a weight that is challenging for them, but certainly nowhere near their max so they can repeat the lift anywhere from 20-200 times or more during their 5 or 10-minute set. ​ Competitions issue rankings which are determined by your actual weight or weight class, the weight of the kettlebells you use to compete, and the amount of reps you complete within the time limit. In most kettlebell competitions, snatch is performed with one bell by both men and women and lifters are allowed one hand switch during their set. Jerk and long-cycle are performed with two kettlebells by men and either one or two bells by women, depending on the hosting organization. Each organization has their own ranking table and rules.
---
How'd You Guys Start?
---
Founder Nikolai Puchlov was an award-winning power lifting coach and personal trainer who maxed out on clients after incorporating kettlebell work into his training programs. He started classes in order to serve more clients and created SKC (first called Strikerfit) with his wife, Amber. They quickly discovered their shared goal and passion was to create the best kettlebell program in the world. That's when Strikerfit became Seattle Kettlebell Club. Since 2014, they went from holding classes in wet parks, to covered patios, to a photography studio, to a retail space in a condo building, and finally to their beautiful 3800 sq. ft. facility on Rainier Ave S.
---
Do I Have To Take The Intro Workshop?
---
"Do I have to take the intro workshop before coming to class? I've used kettlebells before with a personal trainer/I've used kettlebells in CrossFit." ​ We're piggy-backing on the previous question here, but the answer is likely yes. The workshops cover both introductory and advanced pro-style kettlebell skills, which is all about how to lift safely and efficiently for strength and endurance. We guarantee everyone who attends - regardless of experience level - will benefit and learn something new! Additionally, it's great to get familiar with things like which kettlebells you'll be using, where everything is, and how the classes are run before coming to your first class. BUT, if you can't make one of the scheduled intro classes, would prefer to learn at home you can watch the video version on the "Get Started Now" page. Otherwise, if you'd like an exception based on your experience as a kettlebell sport lifter, please contact us.
---
Can I Just Try One Class?
---
We really hate to say no to anyone, but to this one we have to say no. The Level-1 Intro Workshop is a class prerequisite, BUT we do have a video version you can watch at home as an alternate to coming for the intro class in person. We want to make sure you have a great experience at your first class, and we've learned from experience that because our classes move so fast (literally sometimes there's only 10 seconds between exercises) there just isn't time to teach the exercises you learn in the workshops and communicate the more intricate tips like how to counterbalance while swinging to protect your back, how to hold hold them overhead to protect your shoulders, or which grips to use when. All of which are so important to getting a great workout safely. It doesn't take long to set you up for success, but it does take longer than we have during class. We recently had a new member tell us she learned more in our intro workshop than in six months at another kettlebell gym. We promise you won't regret taking the workshop first!
---
---