How Are You Different From Other Gyms?
---
There aren't a lot of gyms dedicated ONLY to kettlebell training. But the decision we made to do just that means at last count we had over 20,000 kettlebell training sessions under our belt. We're pros, and we get our members safely performing the most technical kettlebell exercises (which some trainers take weeks to teach) over a few short classes. All of this is how we ended up with so many normal gym-goers-turned-into-athletes, that we've become one of the top ranked kettlebell clubs in the entire world!
---
Will I Be Able To Do It?
---
We have members in their early teens and members in their 70's. One noteable thing we have in common is enjoying the technical challenge. Kettlebell training is similar to a martial art - you'll continually improve how fluidly you move the bells and learn more advanced techniques as you put the time in. Our training programs have helped many members overcome injuries or chronic pain, so physical limitations exist but are more rare than you'd imagine. Check out these stories and come to an intro workshop to try it out for yourself! Transformation Tuesday: Hafoc Yates Transformation Tuesday: Buffy the Kettlebell Slayer Meet Our Members: Richard Toellner
---
How Much Do Those Things Weigh?
---
Competition grade kettlebells (those are the colored ones) are uniform in size regardless of weight so your technique remains consistent throughout your training. Good quality ones like we carry at SKC are aluminum or steel and have a hollow core. Most competition bells are color coded. pink=8kg (18 lbs), blue=12kg (26 lbs), yellow=16kg (35 pounds), purple=20kg (44 lbs), green=24kg (53 lbs), orange=28kg (62 lbs), red=32kg (70 lbs), white=40kg (88 lbs). If it has a black stripe around the handle, it means it's an intermediate weight; 2 kg more. I.e. pink (8kg) with a black stripe is 10kg. The black ones (which are more common) are hardstyle kettlebells made of cast iron and increase in size as they increase in weight. Regardless of the style, you can find kettlebells as little as 5 lbs and up to 200 lbs, but in our daily classes and personal training the weights we use most are 9, 13, 18, 26, 35, 44, 53, 62 & 70 lbs.
---
Do You Have Child Care?
---
We can't wait to add child care but we don't have it yet. Kids 4+ are welcome to hang out and play on their ipads or whatnot while their parents are in class. Fair warning: we try, but it's hard to monitor the language in all the music we play, so you may want to bring headphones for the little ears.
---
How Do I Cancel My Membership?
---
No impossible contracts here. 30-day notice is required to cancel your autopay. Email your membership cancellation notice to info@seattlekettlebellclub.com. If your notice is given outside of the cancellation window, your payment will process as usual and your membership will be cancelled for the following month.
---
Do You Have Showers?
---
Yes, although we don't have a locker room, we have a shower room and a single changing room. While Covid restrictions are in place, however, the shower is not to be used.
---
Where Do I Park?
---
We have what must be some of the only free street parking left in Seattle. Also, there is a parking lot adjacent to the gym which you may park in for early-morning classes and late-evening classes and on weekends. Please DO NOT park in the parking lot 8am-5pm Monday thru Friday.
---
What Is Kettlebell Sport?
---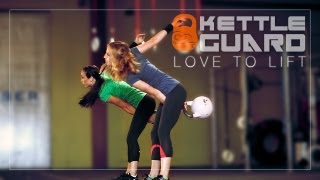 Kettlebell sport is also known as girevoy sport, or GS for short. Girevoy is Russian for kettlebell lifter. The object of kettlebell sport is to lift one or two bells as many times as possible within a certain amount of time (usually 5 or 10-minutes). ​ Many people practice kettlebell sport strictly for the exercise, as it is unmatched in efficiency (you're getting strength, cardio and endurance training benefits at once), it's widely accessible (low-impact) and easy to scale as you progress by increasing the speed of the reps and/or the weight of the bells. Others love the deadlines and challenge a competition provide, and choose to compete in kettlebell sport lifting competitions to achieve the most clean reps within the time limit; good technique is critical. ​ The sport of kettlebell lifting was created in Russia - where the first known competition took place in 1948 with unified rules and regulations forming over the subsequent decades and culminating with membership in their National Sports Federation. ​ Today, aside from the athletes around the world who practice kettlebell sport to increase power endurance performance in their own primary sport, many individuals and clubs also participate in kettlebell sport competitions. Competitions are typically 1 or 2 days held over a weekend and lifters travel to these events. A small competition may have 25 competitors and a large one may accommodate 150 or more. There are several different kettlebell sport events, or "lifts," and the most common are (similar to olympic weightlifting) variations of the kettlebell jerk, snatch and clean and jerk (we call that long-cycle in kettlebell sport). In olympic weightlifting the lifter is trying to lift as much weight as they can at once. A kettlebell lifter is using a weight that is challenging for them, but certainly nowhere near their max so they can repeat the lift anywhere from 20-200 times or more during their 5 or 10-minute set. ​ Competitions issue rankings which are determined by your actual weight or weight class, the weight of the kettlebells you use to compete, and the amount of reps you complete within the time limit. In most kettlebell competitions, snatch is performed with one bell by both men and women and lifters are allowed one hand switch during their set. Jerk and long-cycle are performed with two kettlebells by men and either one or two bells by women, depending on the hosting organization. Each organization has their own ranking table and rules.
---
How'd You Guys Start?
---
Founder Nikolai Puchlov was an award-winning power lifting coach and personal trainer who maxed out on clients after incorporating kettlebell work into his training programs. He started classes in order to serve more clients and created SKC (first called Strikerfit) with his wife, Amber. They quickly discovered their shared goal and passion was to create the best kettlebell program in the world. That's when Strikerfit became Seattle Kettlebell Club. Since 2014, they went from holding classes in wet parks, to covered patios, to a photography studio, to a retail space in a condo building, and finally to their beautiful 3800 sq. ft. facility on Rainier Ave S.
---
---